MONTY & Co.

A NEW PUPPET TV SERIES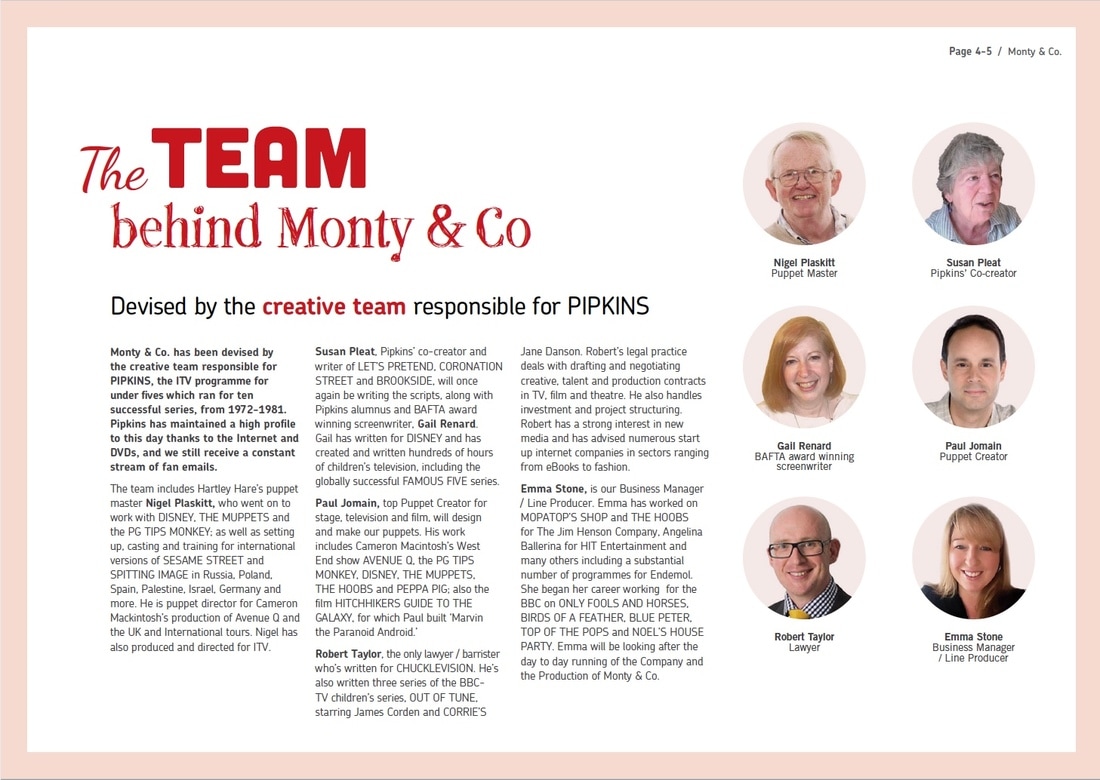 INVESTORS INVITED TO MAKE TV HISTORY AS CREATORS OF CHILDREN'S TV CLASSIC 'PIPKINS' LAUNCH CAMPAIGN TO FUND NEW SHOW 'MONTY & CO'
Production company Pipkins Productions has launched an equity funding campaign that aims to produce a new children's TV puppet series Monty & Co.
The creators of Monty & Co have been involved in top quality television production ranging from Pipkins, the ITV programme for under-fives which ran for ten successful series, to The Muppets and are raising funds to make 50 episodes of the new programme in the first year and at least 250 in total over the next 5 years. Shooting started in December 2017.
Pipkins Productions is operated by a unique board of directors including Pipkins puppet master Nigel Plaskitt, who has worked with Disney, Sesame Street, Spitting Image and The Muppets, and Pipkins co-creator Susan Pleat, writer of Let's Pretend, Coronation Street and Brookside. They are joined by BAFTA award winning screenwriter Gail Renard, author of the book,
Give Me A Chance
, about her teenage friendship with John Lennon and top puppet creator, Paul Jomain whose credits include The Muppets, The PG Tips Monkey and Peppa Pig. The IP in Monty & Co will be fully protected and exploited by media lawyer, Robert Taylor.
The team has identified a gap in the market for Monty & Co which is backed up by Ofcom's 2015 Public Service Review, which reports a 'market failure' in the provision of 'UK-focused kids' content in the UK as the volume of the commissioning of new originated content for children has plummeted in the last decade.
At the same time, there is also growing demand for quality original pre-school content from new internet platforms such as Amazon, Netflix, YouTube Kids, Google, Disney and Sky.
Monty & Co will help to fill that gap in the UK but also in international markets as well, thanks to the team's modular way of shooting which enable foreign language versions to be produced.
Nigel Plaskitt, Chairman of Pipkins Productions said: "There is huge demand for high quality original pre-school programmes, largely fuelled by new internet platforms. Parents and grandparents are looking for quality programmes that their children can watch, on demand.
"Based on our combined experience of making children's television through the years, especially puppet-based shows, we know that Monty & Co will tap into the nostalgia held by parents and grandparents – who ultimately decide what pre-school age children watch – whilst also delivering a series that children will love. Whilst the method of delivery might have changed since we created Pipkins, the combination of strong characters, fantastic puppets, great stories and, above all, the ability to make children laugh and feel through well-told stories is timeless.
"The Monty & Co brand offers fantastic opportunities for growth through both merchandising and the opportunity to make foreign language versions of the show
.
We are excited about welcoming investors into the Monty & Co fold to support us in delivering high quality programmes which reach children through new technology, on-demand."
Pipkins Productions has SEIS and EIS Advance Assurance.
Visit the website. www.montyandco.co.uk
​